We have completed more than 150 automated handling, case packing, palletizing and warehousing applications, using state-of-the-art robotic and automation technologies. These systems operate seamlessly in factories within the Food, Beverage, Pharmaceuticals, Packaging Materials, and other industries, contributing to increased productivity and reduced costs.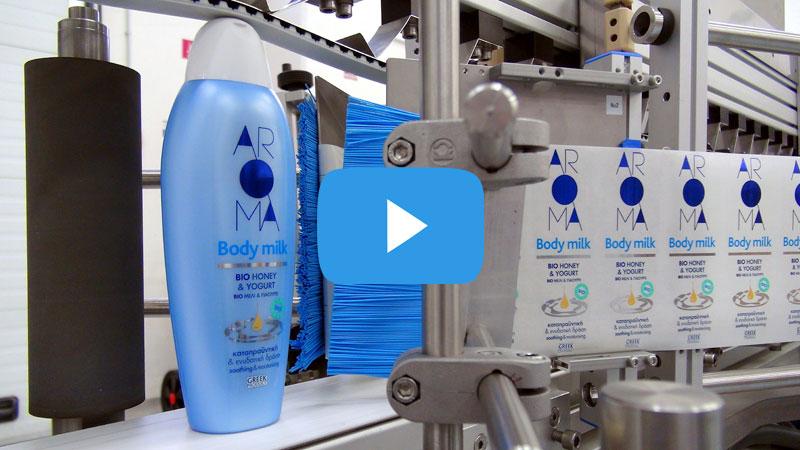 TSATSOS GEORIOS "COSMETIC" company, which is active in the production of private labeled cosmetics and in the development of new products from the idea stage to the final product and its mass production, was looking for a comprehensive and flexible automation solution at the primary packaging stage, in terms of labeling products and their dynamic coding, in order to meet the growing demands of its customers. In particular, due to the production activity of private label products, the company sought to strengthen its competitiveness in such a way that it is able to undertake and carry out flexibly and at the lowest possible cost, high-demand partnerships with many different packaging formats which cannot be predetermined.
Theodorou Automation SAICT, member of Theodorou Group, responding to this need designed and implemented a complete and innovative labeling system that ensures increased productivity, reduced costs and fully meets the customer's needs for flexibility in coding and packaging.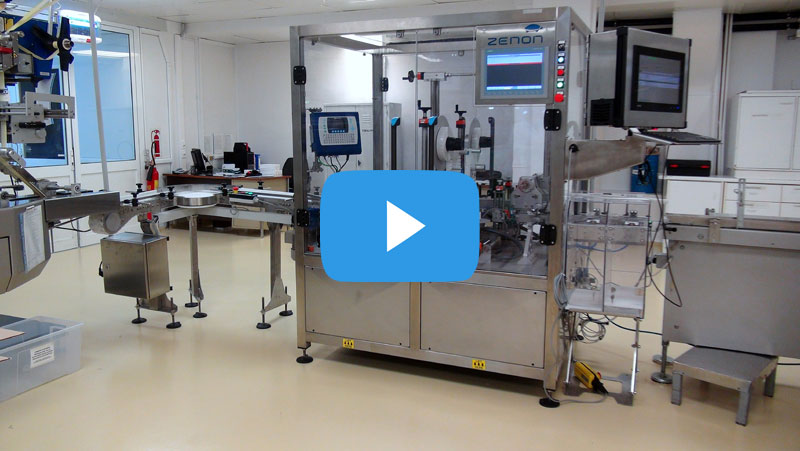 Galenica is one of the largest greek pharmaceutical companies with innovative proprietary medicines that it has already successfully exported to the Balkans. In order to comply with counterfeit drug legislation, it needed a serialization system to use for its medicines production.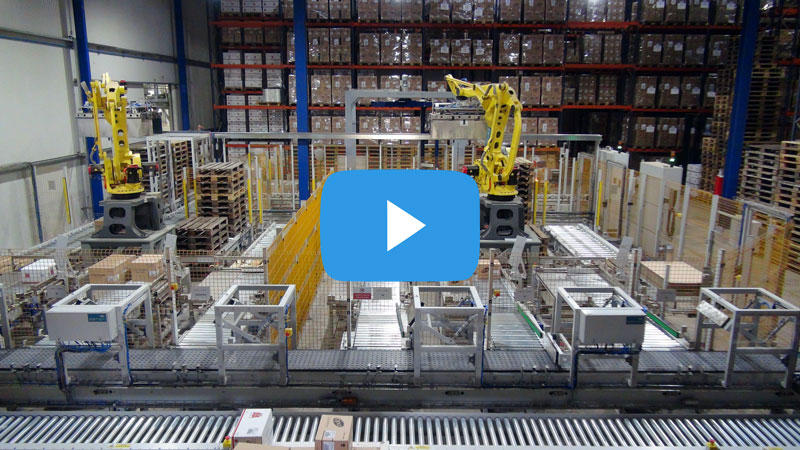 Eurochartiki SA wanted to automate the End-of-Line of its production process for its six distinct liquid detergent production lines at its premises and to transfer the palletizing processes from production area, where it was manually done, in the warehouse area, with all the advantages that this entails, for raw materials handling and for finished pallets handling and storing.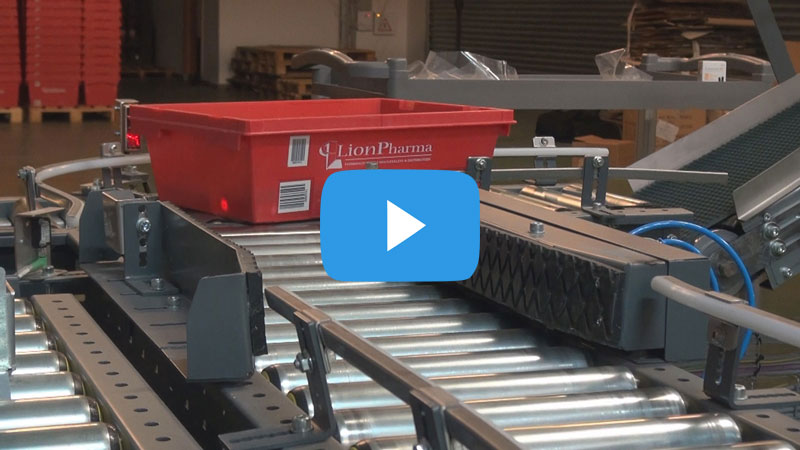 ZENON Automation SAICT, a company with extensive expertise in the design and implementation of robotic and automation solutions for the end-of-line, successfully completed a fully automated order picking and dispatch system for LION PHARMA, a company which specializes in the distribution of pharmaceutical products.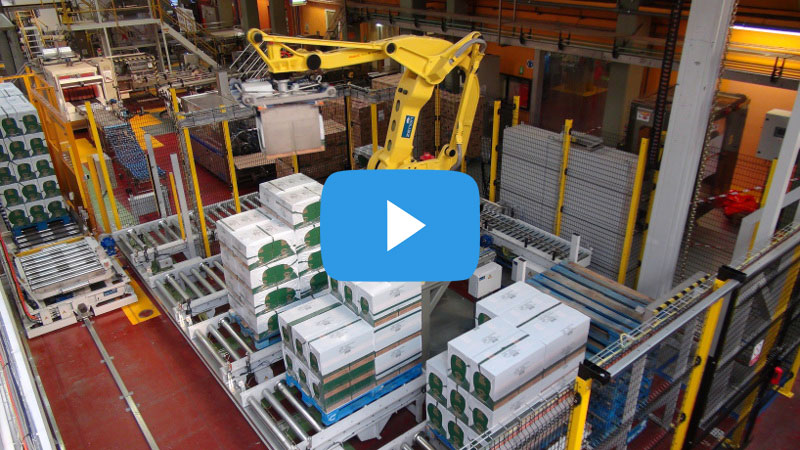 Nestle SA is the largest food company in the world operating in more than 80 countries. It offers a wide range of products including brands such as Nescafe, Loumidis, Nesquik, Korpi, Μaggi, Crunch, Friskies, Perrier, etc.
Zenon Automation SAICT successfully completed the installation of a fully automated handling and palletizing system for three carton packaging lines.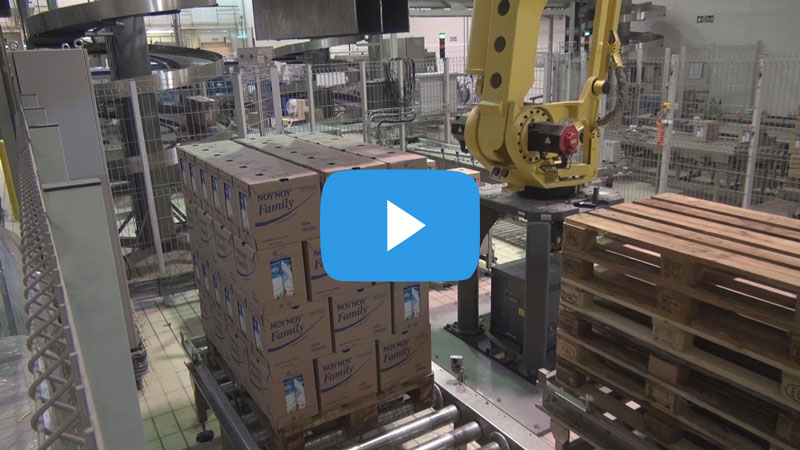 Zenon Automations ABETE successfully completed the installation of the Tetrapak robotic carton palleting system at FRIESLANDCAMPINA HELLAS SA.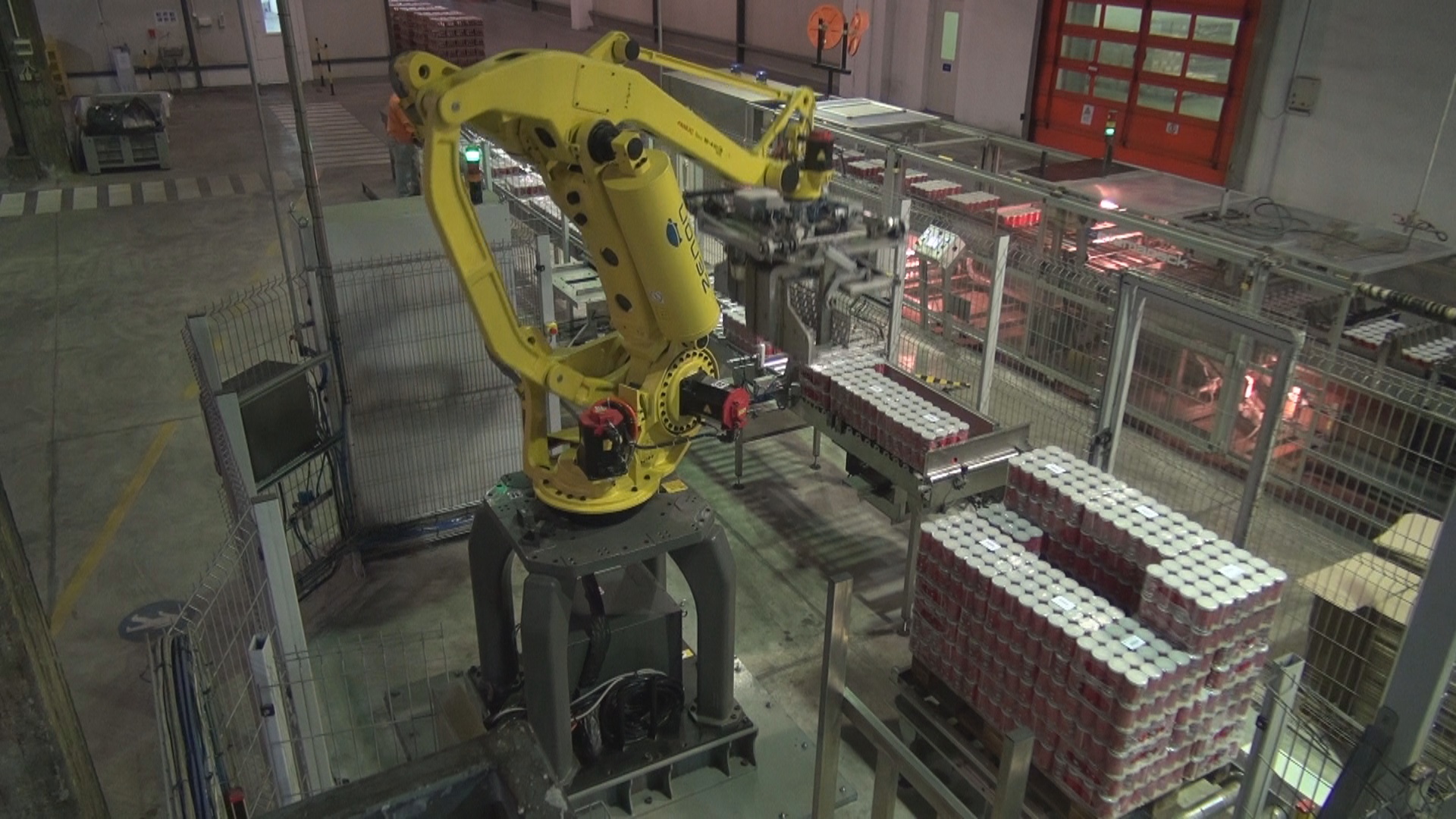 The system that Zenon Automation implemented in Kyknos SA covered the company's need for automating the process of palletizing of metal cans.
Zenon's complete solution includes: a) palletizing of carton trays with cans, b) stretch wrapping of ready pallets, c) 30 carton trays per minute, d) 4 different sizes of cans.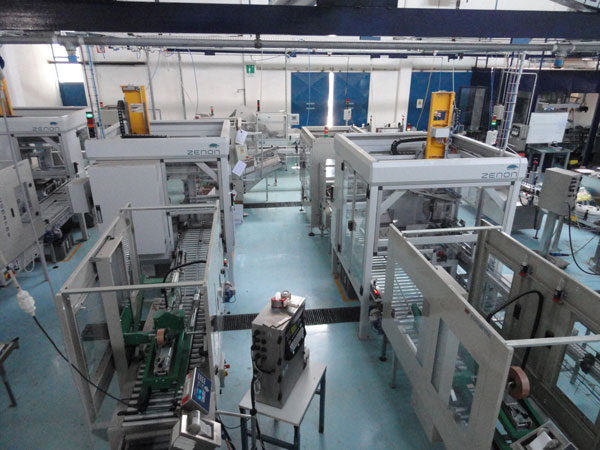 Zenon Automation SAIC handed Syngenta a complete system that automated the process of secondary and tertiary packaging. The system includes two pick & place systems for bottle caps, three cartesian bottle casers, robotic palletizer for cases, pallet transfer, stretch wrapping, lines & tanks SCADA system.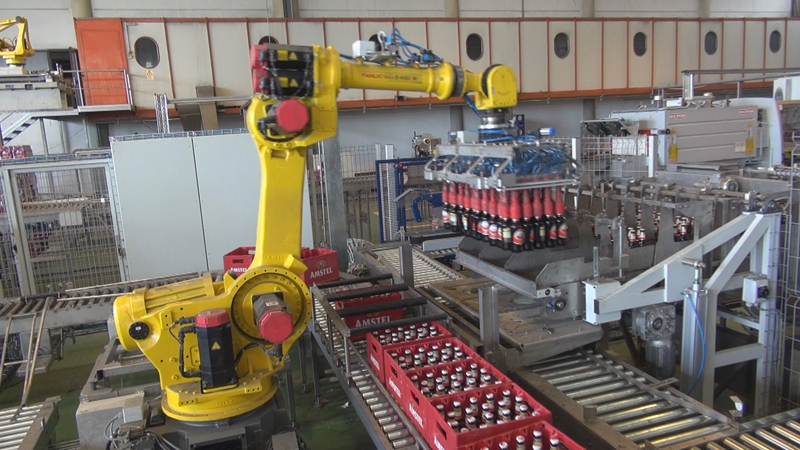 Athenian Brewery is a leading company in the Greek beer market with a wide portfolio of brands such as Amstel, Amstel Pils, Amstel Bock, Amstel Radler, Heineken, Alpha, Fischer, a.o.
Zenon Automation SAICT, a company with extensive experience and expertise in the design and implementation of robotic and automation solutions for the end-of-line, has successfully completed the installation of a fully automated repackaging line of glass bottles for Athenian Brewery.
The repackaging line was designed and built by the experienced engineers of Zenon. Zenon's approach ensured full automation, high productivity, safety and optimal utilization of space and resources.
With the robotic system we designed and installed, CHROTEX S.A. automated the palletizing process for the emulsion paint line.
Using roller conveyors, the system receives paint buckets and carton cases from conveyor lines, and then groups and palletizes them with a FANUC robotic arm, according to a predetermined pattern, on two separate pallet loading stations. It receives empty pallets of two different sizes from ready stacks, while the operator only needs to insert stacks of empty pallets and cartons, and remove the full pallets. When palletizing is completed, all pallets are accumulated at a common exit and are automatically stretch wrapped.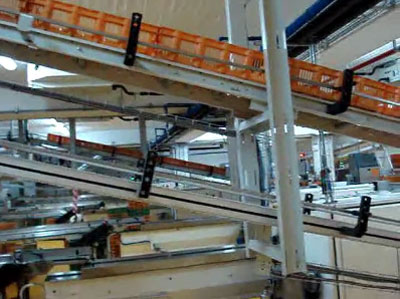 Karamolegos S.A. packages and distributes different types of bread and bakery products in plastic cases (trays). With the system we designed and installed, the company has fully automated the handling process of full and empty trays for the sliced bread and bread core production lines.
The handling process includes the distribution of empty trays to 9 loading stations within the production area, as well as accumulation of the full trays in two independent conveyor lines leading to the pasteurization ovens. This integrated handling system includes: empty tray destacking mechanisms, conveyor lines with a plastic chain conveyor for full and empty trays, single and double subsystems for the in-feed and out-feed of trays to the conveyor lines, and a line for the in-feed with empty trays of the "Time for Rolls" bread production line.
All subsystems are controlled by the main control panel, which monitors production in real time with the help of an industrial panel PC.