Product Handling Solutions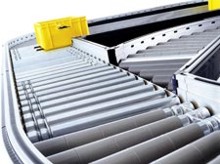 With our integrated product handling and control systems we ensure fast and safe handling for the products and their conveyance units (cases, pallets) within the production area. We use the following handling equipment:
Roller conveyors
Chain conveyors
Belt conveyors
Case and pallet lifts
Pallet wagons
Pallet cranes
etc.
Quality construction and the smart technologies included in the handling equipment provide fast conveyance, reduced maintenance needs and easy integration to the existing systems of the site. Each solution is easily adapted to space requirements, production processes and product specifications.
Product handling solutions we have created and installed in various factories:
Contact Form
Do you wish to automate the product, case and pallet handling process in your factory? In order to discuss your automated handling needs, please fill in the following form or dial +30 210 6690900.