Robotic Case Packing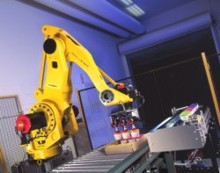 Products are grouped and packed according to a predetermined pattern, using a robotic or a Cartesian system.
Particular attention is paid to the production speed and the specifications of the product packages. Case forming and sealing is executed automatically and reliably.
Careful design of the system ensures that production rates are followed and that product changeover is simple.
A typical system includes a case packing module, a case forming, a case sealing machine, as well as a product and case handling system.
Case packing solutions we have implemented in various factories:
Contact Form
Do you wish to automate the case packing process in your factory? In order to discuss your automated case packing needs, please fill in the following form or dial +30 210 6690900.