Methodology
Project Realization Process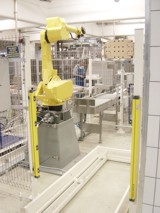 We adjust our solutions to the specific needs of your factory and pay particular attention to supporting your processes.
The fact that our company has earned an ISO 9001/2000 certification verifies that we focus on constantly providing high quality services, from the specifications' analysis to installation and technical support.
In order to achieve proper completion of our systems, we follow an integrated procedure through the following steps:
Analysis of specifications and requirements
Selection of the appropriate equipment
Mechanical and electrical design
Construction of mechanical parts and the electrical control system
Controller programming (robots, PLCs)
Complete system testing
Documentation - Manuals
Installation at the client's site
Operation and maintenance personnel training
Technical support
Watch a complete installation process for a robotic palletizing system:
Documentation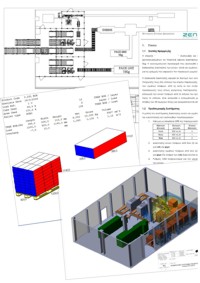 Appropriate documentation is a key factor for the successful completion of an automated packing and warehousing. For Zenon, documentation material is an essential tool for the production and operating personnel to understand and operate the system.
Every system is provided with complete documentation, including:
User, adjustment and maintenance manuals in English
General mechanical drawings
Complete electrical and pneumatic drawings
A table with the types of electrical and pneumatic parts
Safety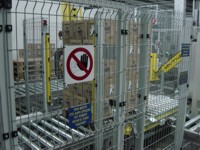 Personnel safety is one of our main priorities in every automation project in the production and packaging areas.
During the realization of every project, we design and install a complete mechanical – in the form of a heavy duty fence – and electrical safety and emergency stop system, using materials approved for safety systems.
In applications involving robotic systems (e.g. palletizing, case packing), the personnel entry doors are equipped with safety interlocks, whereas at the case or pallet input - output openings we install safety light curtains for body detection, in order to prevent the personnel from entering the work envelope of the robotic arm. The safety and emergency stop system can fully immobilize the robotic arm using electric hardware, and it includes double circuits and self-check procedures for immediate identification of errors (e.g. relay contacts malfunction).
The above measures are mandatory for personnel and equipment safety, as well as for compliance with the applicable safety regulations (CE - Machine Directive).
Contact Form
In order to contact us, please use the following form. Or you can reach us by phone, dialling +30 210 6690900: