Robotic Palletizing Systems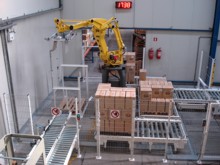 Each pallet is automatically loaded using a robotic or Cartesian system, according to the company's specifications regarding domestic or international clients.
Modern robotic methods and technologies used are capable of covering simultaneously up to 5 production lines for different types of packaging, providing highly accurate pallet loading and reduced maintenance requirements.
Safety during conveyance and storage is achieved by automatic stretch wrapping of the pallets, whereas automatic label printing and application ensures traceability.
Packaging / objects that can be palletized:
PalletMat standardized systems:
CobotMat standardized systems:
Robotic palletizing solutions we have implemented in various factories:
Contact Form
Do you wish to automate the palletizing process in your factory? In order to discuss your automated palletizing needs, please fill in the following form or dial +30 210 6690900.