Projects we have implemented at Demo ΑΕ
The pharmaceutical industry DEMO SA is an international industrial and commercial organization active in the development, production and promotion of pharmaceutical products.
The company's plant in Kryoneri, Attica, is the largest in Southeastern Europe, with ultra-modern facilities of 45.000 m², including a highly modern 1.500 m² Quality Control Laboratory.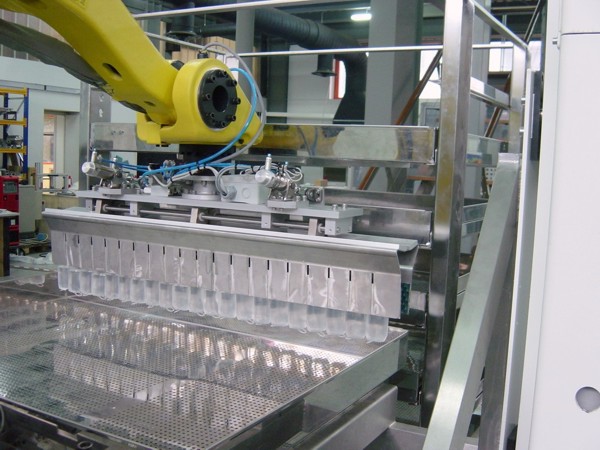 Three robotic systems have been designed and installed for loading/unloading trolleys with serum containers. With the help of a FANUC M420 robotic arm, the two loading systems receive the serum containers from the corresponding production line and load them on metal trolleys with drawers, in order to convey them to the sterilization oven. The systems include a plastic chain conveyor, a lift to handle the trolley drawers and a chain conveyor for the trolleys.
The robotic unloading system unloads the sterilized serum containers from the trolleys and in-feeds them to the label applicator and the robotic case packing system. It includes a FANUC M420 robotic arm, a lift with drawer handling mechanisms, and a chain conveyor for the trolleys. It is worth mentioning that, quite often, during conveyance and sterilization of the trolleys, the serum containers are displaced on the drawer. We have therefore designed a special gripper to deal with this problem. The system can handle serum containers of 1000ml, 500ml, 250ml & 100ml, and the changeover process is simple and fast.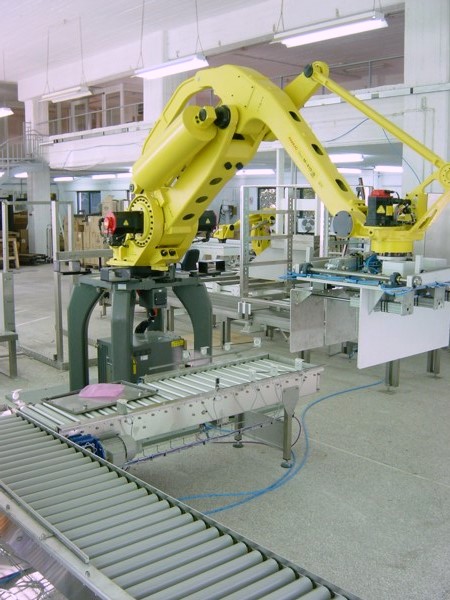 A robotic system for case packing serum containers in different carton cases. It includes a FANUC M421 robotic arm, a pneumatically activated serum grouping module, case formers and sealers, and a chain conveyor for carton case conveyance. The system can handle serum containers of 1000ml, 500ml, 250ml &am; 100ml, in eight different carton case types. The system is fed with serums by a robotic unloading system for the trolleys, and the packed carton cases are forwarded to a robotic palletizing system, thus automating the entire packaging procedure.