Projects we have implemented at Athenian Brewery SA
Athenian Brewery SA is the largest brewing and marketing company in Greece, with an active presence in the country for more than 55 years. It was founded in 1963 by a group of Greek entrepreneurs and today is a member of HEINEKEN N.V.
Produces in Greece the beers AMSTEL, Amstel Pils, Amstel Dark, Amstel Radler, Amstel Free, AMSTEL FREE LEMON 0.0%, Heineken, ALFA, ALFA Strong, ALFA Weiss, ALFA Without, Fischer, VIOS 5, from the Mamos family) and Buckler from 100% Greek Barley, as well as the two brands of cider MILOCLEFTI and Strongbow at its plant in Patras, with Greek raw materials. At the same time, it also owns the natural mineral water IOLI, while it introduces well-known brands of beer, including: Affligem, SOL, Mc Farland, Erdinger, Murphy's, Duvel, Chimay.
It has 3 units in Athens, Thessaloniki and Patra and 2 privately owned blast plants in Thessaloniki and Patras, as well as a bottling plant of Natural mineral water IOLI in Lamia.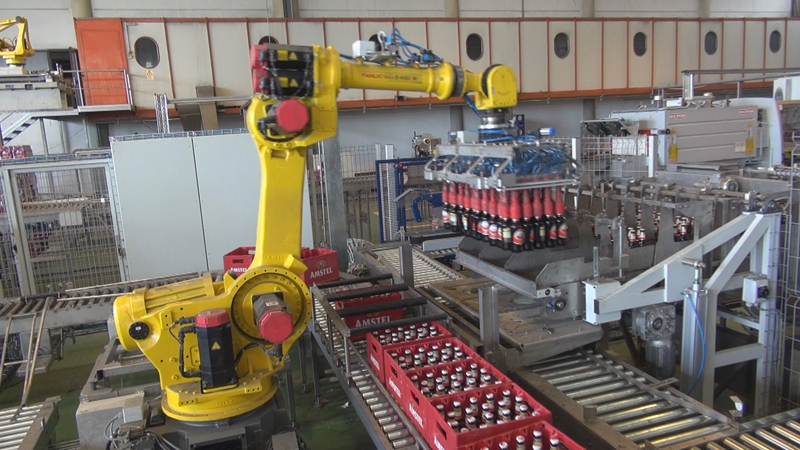 Athenian Brewery is a leading company in the Greek beer market with a wide portfolio of brands such as Amstel, Amstel Pils, Amstel Bock, Amstel Radler, Heineken, Alpha, Fischer, a.o.
Zenon Automation SAICT, a company with extensive experience and expertise in the design and implementation of robotic and automation solutions for the end-of-line, has successfully completed the installation of a fully automated repackaging line of glass bottles for Athenian Brewery.
The repackaging line was designed and built by the experienced engineers of Zenon. Zenon's approach ensured full automation, high productivity, safety and optimal utilization of space and resources.