Projects we have implemented at Aspis Dedes SA
ASPIS was founded in 1970 as a family owned company. Its primary mission was to totally achieve customer satisfaction by always providing excellent product quality and service. Today, 40 years and two generations later, these values, still a central building stone to their continuous success, enabled them to become the biggest Greece-based producer of fruit juice concentrates.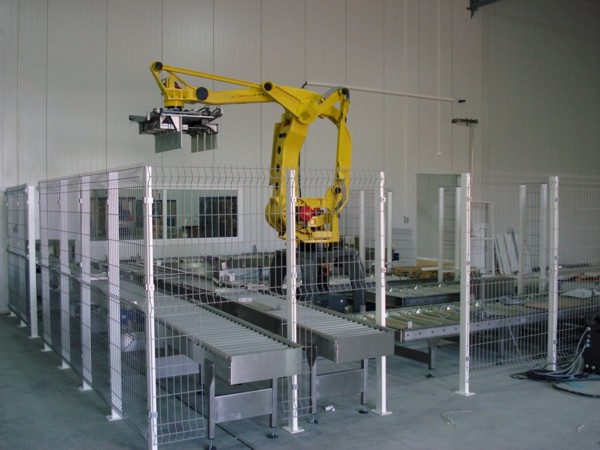 With the system we designed and installed at ASPIS Dedes S.A., the company fully automated the palletizing process of the factory in Argos, thus significantly reducing production costs.
Through roller conveyors, the system receives carton cases with juice from the out-feed of two packaging machines and conveys them to the robotic system. The cases are then grouped appropriately. An especially designed gripper of the FANUC robotic arm, facilitates the correct layering of the carton cases on pallets, according to a predetermined pattern, at two loading stations located on the palletizing roller conveyors. As the system takes the empty pallets from stacks of 12, the operator is only required to insert stacks of empty pallets and remove the full pallets.