Projects we have implemented at Karamolegkos SA
The Karamolegos SA bakery has followed a successful course, starting in 1950 from an oven in Santorini. As a family business, it operated until 1989, the year in which it acquired its current legal form.
Having as values the quality, consistency, creativity, responsibility and passion for progress & development, Karamolegkos SA created the first bread for toast with leaven in 1999, and in 2003 created the first bread toast without crown. In the following years, large investments were made in technological equipment, enabling automated production using closed-type robotic machines.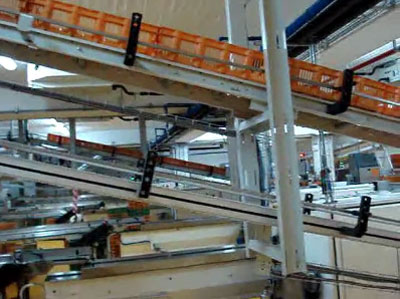 Karamolegos S.A. packages and distributes different types of bread and bakery products in plastic cases (trays). With the system we designed and installed, the company has fully automated the handling process of full and empty trays for the sliced bread and bread core production lines.
The handling process includes the distribution of empty trays to 9 loading stations within the production area, as well as accumulation of the full trays in two independent conveyor lines leading to the pasteurization ovens. This integrated handling system includes: empty tray destacking mechanisms, conveyor lines with a plastic chain conveyor for full and empty trays, single and double subsystems for the in-feed and out-feed of trays to the conveyor lines, and a line for the in-feed with empty trays of the "Time for Rolls" bread production line.
All subsystems are controlled by the main control panel, which monitors production in real time with the help of an industrial panel PC.