Robotic case packing and palletizing systems installed in the Greek food industry
Anastasios Stathopoulos, Executive Director, Zenon Automations SAICT
Philippos Sfyris, Marketing Director, the Theodorou Group of Companies
In an effort to improve competitiveness, the Greek food industry incorporates new methods and technologies which contribute to (a) the reduction of production costs, and (b) the improvement of product safety and quality. Investments in these two areas create the conditions to reverse the economic crisis by reinforcing the position of enterprises in the local and international markets.
The adoption of robotic systems regards mainly the end-of-line automation, namely product case packing and palletizing. The first systems were installed in the beginning of the 1990s and have been increasing ever since, providing multiple benefits when it comes to cost reduction and increase of efficiency. Experience from systems installed in Greece shows that, in the case of factories running three 8-hour shifts, investment in a robotic case packing or palletizing system can be depreciated in less than two years.
Why the Greek food industry invests in robotic systems for packaging
The use of robotic technology for end-of-line automation helps companies to:
significantly reduce production costs
maintain a high production speed while achieving safe product handling
easily adjust to demand fluctuations
be flexible in handling many different types of packaging
minimize human errors
improve working conditions (worker safety, fewer health problems due to heavy weight lifting)
comply with safety regulations (e.g. maximum allowed weight handled by a worker), and
ensure product quality.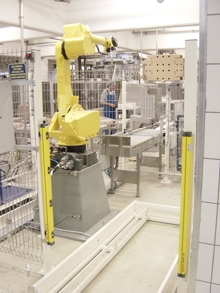 Industrial robots provide fast and accurate movement and therefore contribute to the reduction of production times, as well as reduction of the cost of the manufactured products. Machine idle time is also significantly reduced, ensuring faster, more stable and more predictable production rates, which guarantee a smooth production flow.
Robotic systems are not affected by factors such as fatigue or bad and dangerous working conditions, and therefore constantly ensure product quality. Given that it is possible for them to operate non-stop, it is easy to cover seasonal high demand or urgent orders.
Industrial robots can move to any point within their work envelope, with the help of a computer program. Therefore, they provide great flexibility in handling different products and require very few adjustments of peripheral equipment during product changeover. This feature is particularly useful nowadays, as the product variety is large and the production batches relatively small with frequent changeover. Moreover, given that there is no need for numerous adjustments, there is no product waste during machine adjustment for changeover.
Robotic arms are manufactured by large vendors on production lines; therefore provide tested and reliable solutions that just need to be adapted to the needs of the particular application. Hence, the robotic system is reliable and does not present any primary problems, whereas cost and development time are significantly smaller compared to conventional automatic machines. Moreover, maintenance needs are fewer, whereas the exhaustive diagnostic messages facilitate quick fixing of failures.
Given that the robotic arm can be adapted for different applications, it is absolutely possible to reuse it when the original product completes its life cycle. This way, the initial investment of buying the machine is protected, which is very important nowadays that the life cycle of products is relatively short.
Robotic systems automate product case packing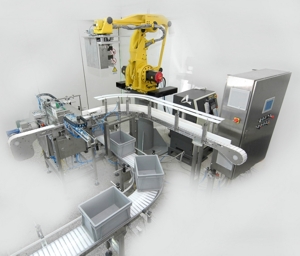 Robotic case packing systems are installed after primary packaging and are used for grouping and packing the products into cases according to a specified pattern, taking into consideration the production speed and the specifications of the product packaging.
In case packing applications, we normally use 2-, 4-, or 6-axes articulated robots or SCARA robots. These types offer high speed (up to 50 movements per minute) and flexibility. They are used for the case packing of bottles, bakery products (e.g. croissants) or sweets, as well as in the pharmaceuticals industry. Thanks to the high speed of the robot, it is possible in some cases to avoid the use of distributors in order to form a layer before case packing, thus providing simple and easy changeover of products.
Robotic arms can often cooperate with computer vision systems in order to locate products to be packaged, which are moving on a belt conveyor. Typical applications include packaging of cookies or pralines in blisters or carton boxes. This type of application provides great flexibility and fast product changeover, as well as the possibility to produce packages containing different types of similar products (e.g. pralines).
A typical robotic case packing system includes:
A case packing module
A case forming machine
A case sealing machine
A case handling system
In certain food industry applications it is necessary to load the products on special containers or trolleys to undergo an intermediate process before final packaging. A typical example would be sterilization in ovens. In such applications, 4- or 6-axes robots are used, normally equipped with a gripper to take many products at the same time, thus providing higher production speed. Robots in such applications substitute more than one worker, ensuring a steady production rate, as well as optimum use of the main production machine, which can now operate in full speed without frequent interruptions due to product accumulation at the exit point.
Robotic systems automate product palletizing
Robotic palletizing systems are installed after the secondary packaging and are used to automatically load each pallet with group packages of products (carton cases, paper trays, packs, trays, sacks, etc.), according to the company's specifications. Modern robotic methods and technologies ensure accurate installation and reduced maintenance needs.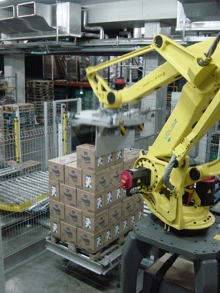 A standard robotic palletizing system includes:
A robotic arm (usually with 4 axes) and its controller
A gripper
A case conveyance system and grouping modules
A storage for empty pallets
Roller conveyors for full pallets
A shuttle car for the conveyance of completed pallets
A stretch wrapper
A pallet labelling system with labels or RFID
A main automation cabinet (including PLC, etc.) and an operation panel
A safety system (fence, safety photocells, etc.)
In a palletizing application, we would normally use a 4- or 6-axes robotic arm, with a nominal load of 100 to 450 kgs. The robotic arm would bear a gripper in order to take many cases simultaneously and increase the production rate. It is worth noting that a robotic arm can cover up to five production lines, loading a corresponding number of pallets at the same time. This would be impossible with a typical layer palletizer; therefore the robotic solution saves on the initial investment cost, as well as on space. Moreover, it is possible to use the robotic systems for the depalletizing procedures of sacks, plastic trays or cases in order to feed a production machine.
A complete system can therefore fully cover the last production stage by receiving full cases and delivering loaded, wrapped and labelled pallets.
Examples of Greek food factories where robotic systems have been used for case packing and palletizing applications
1. Integrated packaging solution for a packaging materials factory
A well-known company producing food packaging materials has automated the secondary and tertiary packaging procedures with an integrated solution designed and installed by ZENON AUTOMATIONS. In particular, this solution fully automated the end-of-line processes, from carton case forming and case packing to palletizing:
Reception of empty carton cases from the carton case former.
Insertion of bags in the carton cases.
Carton case conveyance to the out-feed points of the filling machines and placement of the carton cases at the filling position. Removal of full carton cases using an automation and control system.
Labelling of each carton case according to the filling machine, using an automated print and apply system.
Bag closure and folding inside the carton case.
Sealing of the full carton case with self-adhesive tape.
Conveyance of full carton cases to the palletizing system. In order to avoid the carton case conveyance obstructing access to the production machines, we used lifts equipped with all automations and sensors necessary for fast, safe and accurate conveyance.
Carton case sorting for palletizing according to product, using a barcode.
Palletizing of carton cases on different pallets according to the production machine, using a robotic arm.
Full pallet stretch wrapping by an automatic stretch wrapper, and pallet out-feed for warehousing.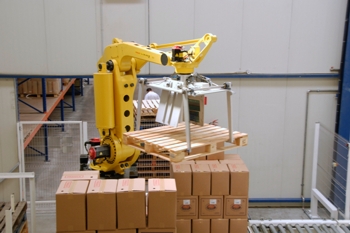 2. Robotic palletizing system for a dairy products factory
A large Greek dairy products factory has automated the palletizing process of cases with Tetrapak containers through an integrated solution designed and installed by ZENON AUTOMATIONS.
The system receives Tetrapak carton cases from a conveyor line, sorts them to two separate conveyor lines according to height, groups and then palletizes them using a robotic arm, according to a predetermined pattern at specific pallet loading stations. Loaded pallets are automatically conveyed to a stretch wrapper. As the system takes empty pallets from ready stacks, the operator is only required to in-feed stacks of empty pallets and then remove the full pallets once the palletizing is completed.
3. Robotic palletizing system in a juice factory
With a system designed and installed by ZENON AUTOMATIONS, a well-known juice factory fully automated the palletizing process, thus significantly reducing production costs.
Through roller conveyors, the system receives carton cases with juice from the out-feed of two packaging machines and conveys them to the robotic system. The cases are then grouped appropriately. A gripper especially designed for this purpose facilitates the correct layering of carton cases on pallets, according to a predetermined pattern, at two loading stations located on the palletizing roller conveyors. As the system takes the empty pallets from stacks of 12, the operator is only required to insert stacks of empty pallets and remove the loaded pallets. Moreover, palletizing is performed using either euro pallets or Dusseldorf pallets (half the euro pallet size) without reducing the production rate.

For more examples (videos, articles, pictures) of automated case packing and palletizing applications in every branch of the Food and Drink industry, visit www.zenon.gr, the website of ZENON AUTOMATIONS SAICT.

ABOUT ZENON AUTOMATION
ZENON AUTOMATION was established in 1987 and specializes on the design, construction, integration and support of automated packaging and warehousing systems (End-of-Line Automation): Case Packing, Palletizing, Handling, Automated Warehousing. The company has practically introduced robots to the Greek industry, having completed more than 150 applications in the fields of Food, Beverage, Pharmaceuticals, Chemicals, Packaging Materials, etc. ZENON AUTOMATIONS has been a member of the Theodorou Group of Companies since 2009.