Zenon Automation SAICT, a company with extensive experience and expertise in the design and integration of robotic and automation solutions for the end-of-line, has installed a palletizing project in England, thus consolidating its presence in Europe and the Middle East.
Specifically, ZENON has successfully completed the installation of a robotic palletizing system for carton cases at the factory of SCA in Lancashire, England. SCA, a leading global paper and personal care products company, was seeking a palletizing solution for carton cases for a new packaging line.
ZENON's approach not only ensured optimal utilization of factory space and available resources with the use of the existing equipment in its implementation but also, thanks to the careful integration, it led to a problem-free startup of the production line.
The Need
SCA was seeking a fully automated palletizing system for napkins. The palletizing system needed to be synchronized with the rest of the equipment in the packaging line, i.e. a napkins packaging machine as well as a pallet stretch wrapping machine.
Moreover, optimal space utilization and prompt installation and commission were vital.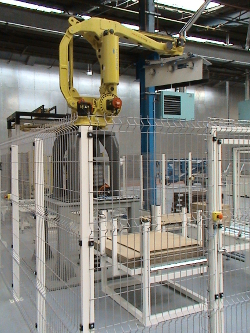 The Solution
ZENON designed and offered an integrated and fully automated palletizing solution which fully met the needs of the application, i.e.:
Automatic handling of empty pallets
Automatic grouping and palletizing of product
Automatic handling and transportation of formed pallets to the next packaging station (stretchwrapping machine)
The robotic cell, as well as the peripheral equipment and the control system, were designed and built by the experienced engineers of ZENON.
The gripper of the robotic arm was especially designed to handle the carton cases with precision and thus ensure the safety of the product and the stability of the pallet. The same gripper can also handle the empty pallets as well as the carton interlayers, which are placed in between product layers.
The design of the solution ensures ease-of-use, adaptability to future needs and high productivity. It offers the option to store many different palletizing programs for different products, a touch screen control panel with various possibilities such as error display and graphic presentation of system performance and remote technical support. Product changeovers are automatic and immediate without any need to change the settings, beyond the simple choice of the product.
Finally, the palletizing solution fully complied with SCA's safety regulations and satisfied the need for quick and easy integration into the production line.
Benefits
Increase in productivity
Cost reduction
Reliability and minimum maintenance needs
Flexibility and expandability as the system can easily be upgraded and modified to handle new packaging lines, new products etc.
Optimal resources utilization (space, manpower, existing equipment and IT)
Contact Form
If you are interested in a similar solution, please fill out the form below. Or you can reach us by phone, dialling +30 210 6690900: